In a recent blog post, Melanie Perkins, the Australian co-founder of revolutionary design software Canva, voiced a very wise and hard truth:
"You have to believe in yourself and your vision for a very long time before anyone else will…"
Business owners, who thrive and survive to make their mark, completely understand the importance of this perseverance. But it's not just about persevering, business growth also depends on action. You have to be actively showcasing your vision and promoting your business. One of the best ways to do so is by increasing your branding exercises. Trade fairs, exhibitions, industry events, local markets, random pop-up marketing events and other outdoor business events are some of the best places to display your products and services as well as get your branding message across to your target audience.
Most businesses know that one of the most reliable products in your outdoor events' marketing tool kit is a custom-printed folding marquee. However, meticulous planners who own businesses also know that the marquee alone would not suffice. To put across your branding message in an efficient manner, you might require additional outdoor banners and other promotional products to showcase your brand.  
Now, we are sure we have two types of readers – (i) whose head just exploded with new ideas and (ii) who hit a complete roadblock. Well, there is also a third who already knows this, but perhaps you should read on: even the more seasoned marketers need new ideas.
Listed below, you will find 12 types of promotional products including custom banners, table covers and what not, which are compatible with custom-printed gazebos. These products will easily blend in with your advertising design and presentation style, thereby helping you turn the vision in your head into a reality.
12 Outdoor Banners and Promotional Products for Branding at Outdoor Business Events
Out of the 12, the first 10 are all accessories, which fall in the promotional outdoor banners category. The last 2, on the other hand, are product categories in themselves and can be used for multiple requirements. We have listed them here because they can also be an addition to your professional marquees and custom banners, to create a more striking and impactful presentation at outdoor business events.
1. Marquee Banners Product Category 1: Outdoor Banners for Signage
Custom-printed banners made from 100% Polyester or PVC-coated polyester fabrics are perfect for making outdoor banners or signage for business events. Make sure that there is an eyelet system at the corners of your custom banner to fasten them to the marquee frame or other structures. 
2. Marquee Banners Product Category 2: Promotional Flags
Promotional flags are very popular for branding and advertising at business events. They provide the advantage of height to make your marketing content visible even from a distance. Flags and custom banners for signage complement each other very well in creating a presentation design. Flag-shaped outdoor banners come in various shapes like:
Teardrop shape
Feather shape
Rectangle shape

3. Marquee Banners Product Category 3: Pull-up Banners
Pull-up banners are reliable and versatile promotional products. They can be easily installed and uninstalled into a compact, travel-friendly size. If you are looking for a product that will last long, we advise you to get a pull-up outdoor banner made from PU-coated polyester or polyethylene terephthalate (PET).
4. Marquee Banners Product Category 4: Pop Banners
Pop banners are another stylish option to showcase your business' advertising content. They come in various shapes. The most popular among these shapes are oval or triangular shaped pop custom banners. They are usually made from knitted cloth fabric which can be custom-printed with any design. However, you must make sure to purchase a pop up marquee banner with a flexible stainless-steel spring, so that the spring system doesn't break down, rendering the pop banner useless.
5. Marquee Banners Product Category 5: Custom-printed Table Covers
Table covers are also very versatile promotional products which are compatible with marquees. You can use them as a custom banner for signage attached to the marquee's front or place them separately outside to display your products. Table covers made from PVC-coated polyester or 100% PVC are suitable for long-term use. You can also choose to get a custom-printed table cover made from warp knitted stretch fabric to create a sleeker look.
6. Marquee Banners Product Category 6: Custom-printed Full Side Walls
Full size side walls can also act as promotional products. These walls can be printed with curated branding and advertising content for your business. It also helps in creating a more sophisticated look because adding full walls allows your custom marquee to take the shape of a proper shop.
7. Marquee Banners Product Category 7: Custom-printed Half Walls
If you wish to incorporate the scenic beauty of your surroundings at an outdoor business event, you can opt for a half wall instead of a full wall as an outdoor banner. Another option is to use a half wall in the front and a full wall at the back of your custom marquee. If you are using both, make sure that your design takes advantage of the depth to create a dimensional look for your business presentation at industry events.
8. Marquee Banners Product Category 8: Custom-printed Slide-in Keder Walls
Custom-printed slide-in keder walls are actually a subcategory of half walls. We are mentioning them separately because these outdoor banners are not compatible with all marquees. Only the best and highest quality marquees incorporate this design. In order to use a slide-in keder wall, you must purchase a marquee frame designed with an advanced four-groove geometric shape. The keder walls are then built to slide into these grooves to create a robust marquee and signage setup.
9. Marquee Banners Product Category 9: Custom-printed Partitions
You can also choose to get printed half or full wall size custom banners to install as partitions within your marquee structure. It can help you divide your marquee according to product ranges, with each segment focusing on branding content for that particular range. You can also use partition walls to divide your marquee into a counter area for your staff and a shaded waiting area for prospective clients.
10. Marquee Banners Product Category 10: Custom-printed Media Walls
Media walls are stand-alone walls that can be a great eye-catcher in your marketing tool kit. You can use them to create a spectacular entrance to your marquee. You can also customize them as a photo wall or cut-out prop to motivate customers to click pictures, which will also help promote organic online engagement for your brand.
11. Inflatable Arches
Inflatables are not included in the category of printed pop up banners for marquees. Instead, it is a product category in itself. Inflatables come in all shapes and sizes, including huge structures that can be used as marquees or gazebos as well as medical inflatable tents. However, there is one more category of inflatables that works perfectly as promotional products. These are called inflatable arches. These arches can be added to your custom-printed marquee to create an outstanding entrance.  
12. Custom-printed Patio Umbrellas
Once again, patio umbrellas constitute a category in itself and do not always fall under the category of promotional products or custom banners for marquees. These umbrellas are available in a wide range of configurations in terms of materials and sizes. As a promotional product, they can be particularly useful for businesses in the food industry, agricultural produce and floriculture to name a few.
Mix & Match These 12 Promotional Products and Custom Banners
&
Make Your Business the Event's Stunner
A word of caution to the overly enthusiastic and dedicated business owners out there: Avoid the temptation to use all the products.
Although we have provided you with 12 options for marquee banners here, we are not advising you to use them all at once. You should curate a base design for your custom marquee first and then mix and match some of these products to create a complete grand look for the event.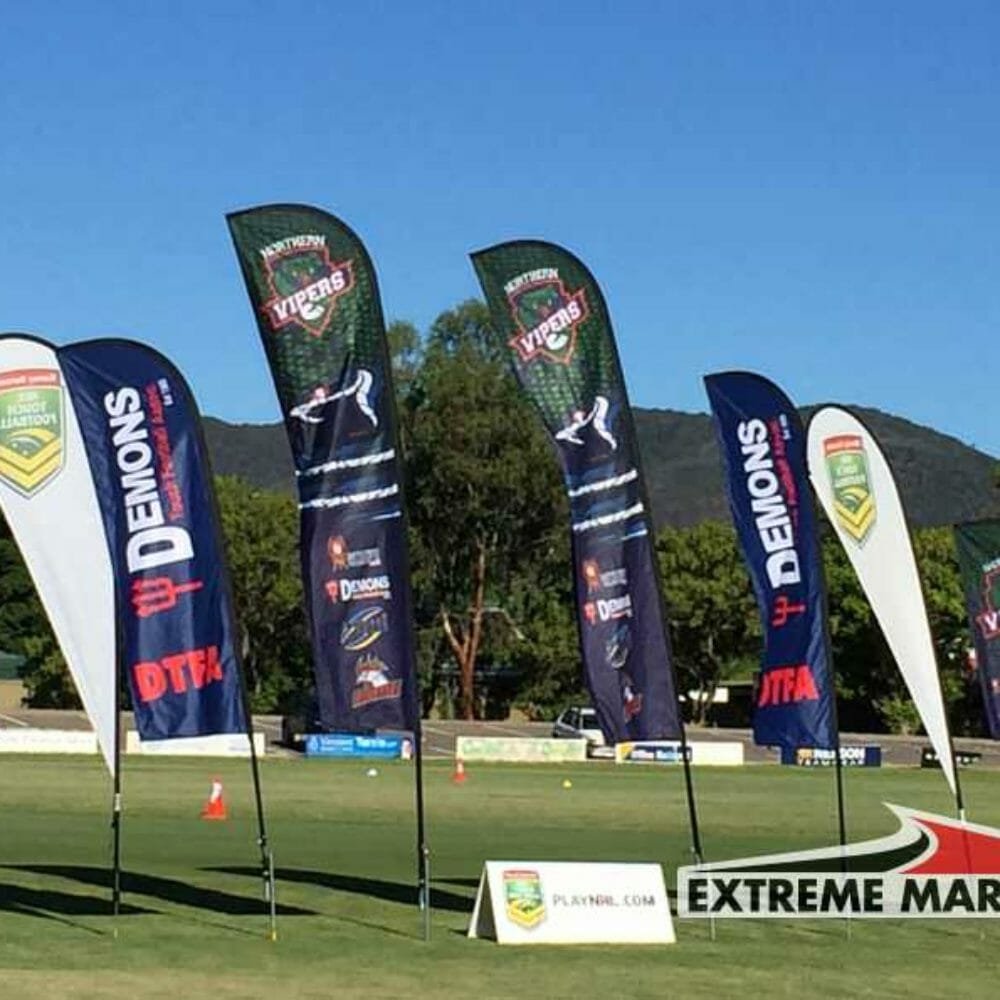 If you are looking for outdoor banners, table covers or pop-up banners in Australia, we strongly advise you to go with an online Australian brand that manufactures and retails in gazebos and marquees. Choosing a brand that makes both marquees and promotional products like custom banners ensures that you purchase products that are compatible with your gazebo structure. Moreover, branded custom banners are more reliable and durable as compared to cheap local products.  
With this advice, we take your leave.
We know that with all this information, you can make the perfect choice that will help you land your business' next big leap.